Thank you, Supervisors, for your services rendered ;)
Last night, we held our first "Supervisor Award Ceremony". We gave out certificates to our "Housework Supervisors", to appreciate them for their contributions to the home.
It was great fun. Prior to the ceremony, I told the children to prepare themselves as we are going to do something very special. Elias was in the mood for some fun and started combing his hair. Of course, Samuel followed. In the end, Daddy helped them both.
Of course, I was the emcee, and Daddy was the GOH – "The Boss".
I gave a little introduction. It was a silly little speech, crafted off-the-cuff from hearing so many speeches at the many award ceremonies I have attended. I had so much fun saying it, and had to stop myself from laughing at my own jokes.
"Thank you, ladies ("lady!" someone corrected me) and gentlemen for coming to our Inaugural Prestigious Annual Supervisor Award Ceremony! This is an annual affair that we organise to recognise the efforts of our Supervisors. They play an important role in the cleanliness and neatness of this household. Without them, we will not be living in such a comfortable environment. We all know that all of us appreciate being appreciated, and everyone of us deserve recognition for the hard work which we do. Once again, I thank you very much for honouring us with your presence…May I now invite the Guest of Honour…. a round of applause!!"
After that we gave out the awards, starting from the Pioneer Supervisor Award, followed by the Shining Star Award, then the Conscientious Supervisor Award. Of course just like the real thing, we had the photo with only the recipient, and then we invited the parents to come up to the stage to take photo. So I "became" the parent during the photo-taking.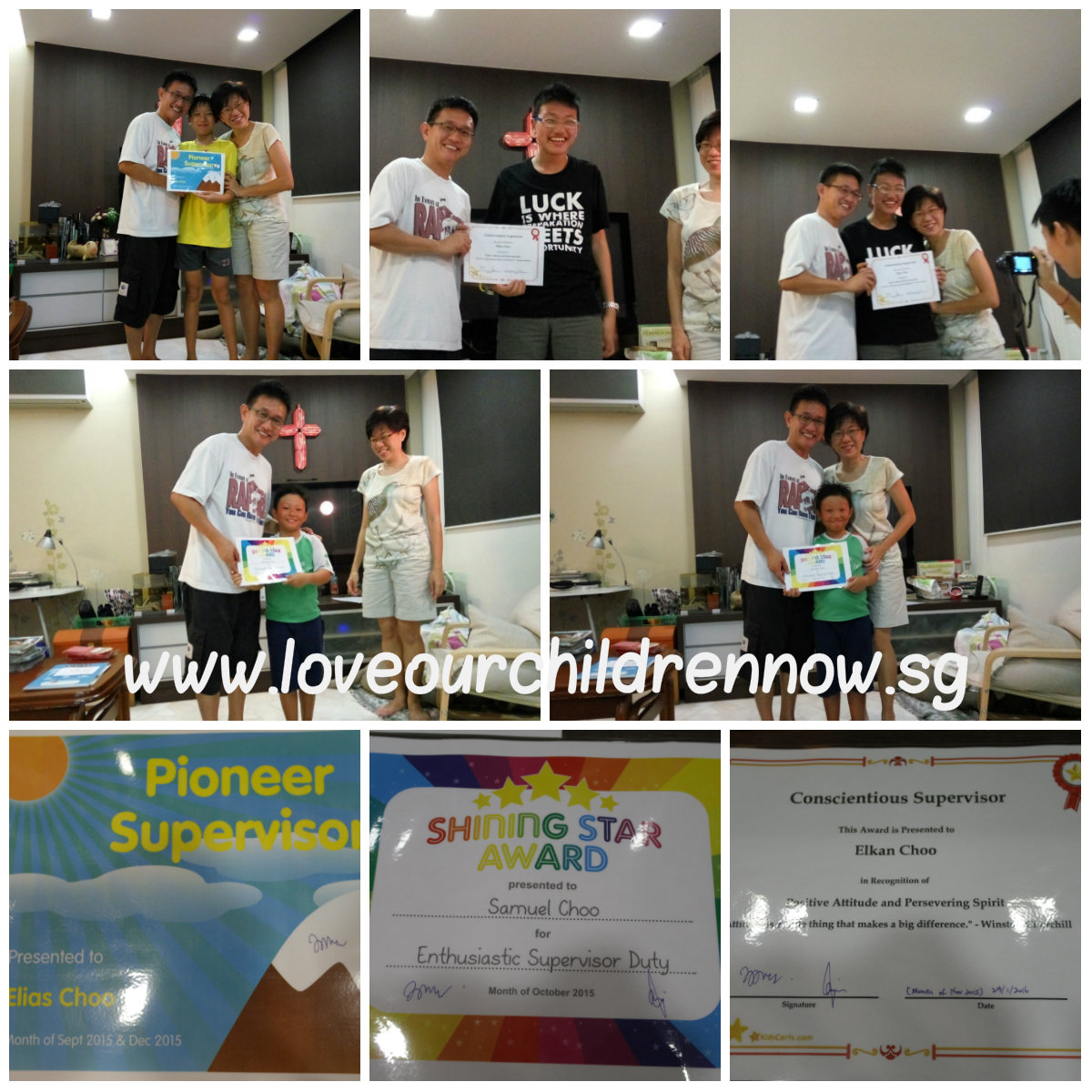 Finally, after the ceremony, I "became" the Reporter.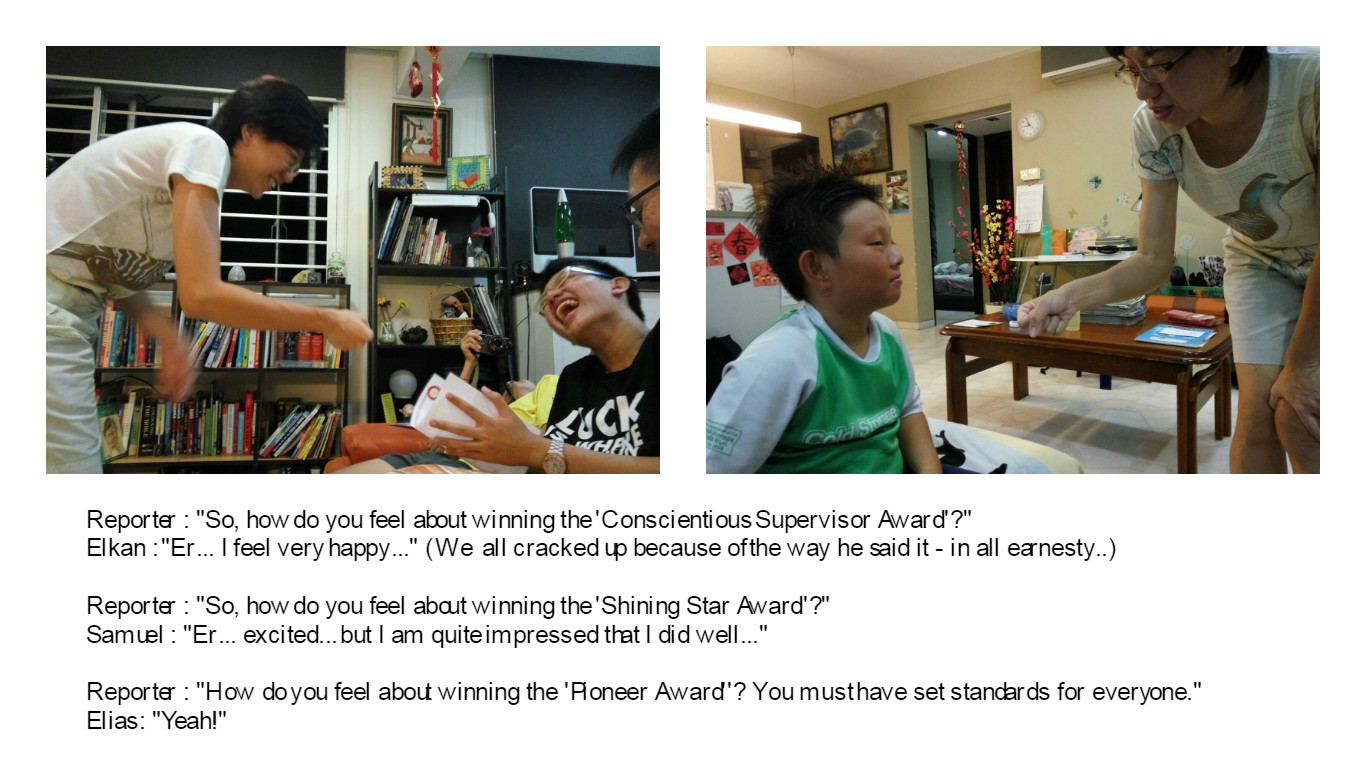 Ok, ok, enough of the jokes… Now, let me go to the serious part…. because there is real hard work behind all these fun and laughter.
We have been working on our "Housework" system for many years. This is how we do it now:-
1. The housework time is at a fixed time (15-20 minutes, just after dinner) everyday.

2. Everyone does housework at the same time. The children will keep their clothes, pack up the house and water the plants. The parents will wash dishes, put clothes in the washing machine, clean Roomba etc.

3. We do housework with fast music in the background.

4. The Supervisor has to start the housework time by playing the music, and ensuring that everyone does their duties. He is also responsible for watering the plants that month.

5. If anyone has finished his part but there is still time on the clock, he will dust the house (clean surfaces with a wet cloth).

6. Finally, the Supervisor is responsible for keeping time and reporting to mum when housework is done. Mum will then check the house and advise the Supervisor on things which he left out.

After every month of duty, we would do a review of how well the Supervisor has performed. We would obtain feedback from each "team member" (the other brothers) and the bosses (daddy and mummy). The Supervisor would also do a self-evaluation. We ask the three questions – What to do more of, what to do less of, and what to continue doing.
We started the Supervisor system in mid-Sept last year and every child has since had the chance to be a Supervisor.
The system is still work in progress – our Supervisors still need reminders to start the housework time and there are days when we are so busy/tired that we have to skip it. In fact, I was supposed to start the children on the washing of dishes but I have yet to do it, and the plants have been suffering from not being watered as the Supervisors keep forgetting.
However, we keep at it as much as we can, and we have seen the children grow up and mature through the system. They have become more efficient in keeping their clothes and packing up the house and their personal spaces. As Supervisors, they have become more aware of when items are out of place, and where each item is supposed to be kept (since they have to put them back in place). They are also learning how to work with each other and how to review performances and give/receive feedback.
It is not easy. On the one hand, they enjoy being able to give each other orders (some are natural in doing it and delegate too much; others need to learn how to delegate instead of taking everything himself. Both types need to learn to do it fairly.)
On the other hand, they do not like being responsible for each other's behaviour (because they are not always co-operative or willing to work) and accountable for the outcome. (Mum just goes after the Supervisor for any "unsatisfactory work").
In fact, one night last week at about 12 midnight, one of them told me "I think I don't like this Supervisor system. I like it better when everyone is just responsible for his own actions."
The fella was feeling slightly discouraged. Everyone else has gone to sleep and I pointed out to him that the housework has not been done. He looked at the pile of clothes and sighed. I guess it is not fun being the only one awake and getting an admonishment for having failed his duty.
When I started the Supervisor system, it was really to ease my burden – I was tired of running after all three of them to do their housework. Later as the system developed, I realised how effective it was in teaching and discipling the children.
Housework is a tedious, thankless task, and the amount of work needed to maintain a household is endless. After 30 minutes of hardwork by everyone, we are right back to square one within 24 hours – with dirty clothes and dishes and a messy house with a new layer of dust.
This is why housework is our choice mechanism for building the children's character. Housework requires us to keep doing the same thing again and again and again. It requires us to do these seemingly meaningless, economically unproductive, labour-intensive tasks while there are a thousand and one more exciting and critical things screaming for our attention. Oftentimes it requires us to clean up spills, scrub burnt pots, and re-wash the clothes because they were left out in the rain. The daily grind of it can be very frustrating and discouraging.
Unlike in sports, music or the academics – there is no glory in doing a good piece of housework. There is no public applause, and it is not something that attracts "likes" on Facebook. Even appreciation from fellow family members is rare (ask any home maker). On the other hand, not everyone can excel in sports, music or the academics. But many types of housework is simple enough for everyone to do it, and everyone can learn to do it well.
It is a truly humbling type of work. It develops faithfulness, resilience and perseverance. It also develops empathy, appreciation and respect for those who are in the cleaning industry.
I think we have amazing Supervisors in our household. We are immensely proud of you!
Today – Supervisors… Tomorrow – Rulers of the world!