Can you read for me?
I love my kids, but I also love to read. One thing which I missed after I became a mother was my days of doing nothing but read.
So one thing which I was very motivated to do as a mother, was to make my children readers. My dream was for us to lounge around in the house, each with a book in hand. I believed that children raised in an environment of books and other avid readers will take up reading naturally, so we had shelves of books and I read to the kids and told them stories.
Elkan and Elias started reading independently and regularly when they were in kindergarten. So of course I thought I was an excellent parent, and got it all right (and what's so difficult about raising children to read?)
Then came Samuel. He did not pick up reading naturally. I was devastated. I felt so sad about him missing out on the pleasure of reading. I was determined that he learn to read, so my life took a detour (Read my posts on Samuel).
Although reading is still laborious for him, he now has the ability to enjoy books and stories. Finally, I have reached my dream state.
Nonetheless, growing up, my children still enjoyed having me read aloud to them although they can read well. As soon as they were old enough to appreciate more complicated stories, I started reading them stories which I myself liked including Chronicles of Narnia and Watership Down.
But the most interesting reading activity I have ever done for them was when my husband and I went on a week long holiday without them. Elias and Elkan were 5 and 6 years old respectively. I was reading the bible aloud to them at that time. So I recorded the readings and taught them how to play the recordings back – one reading for each day. To make it interesting, I told a joke at the end of each reading.
My children can't explain to me why they liked hearing me read to them (I don't think I am a particularly good reader). I imagine that they just like hearing my voice and having me close to them.
Research tells us that there are lots of advantages to reading aloud to children:-
It is the single most important activity for reading success (Bredekamp, Copple, & Neuman, 2000)
It is beneficial for their cognitive development, activating brain areas related to narrative comprehension and mental imagery (The Straits Times, Sept 2017)
Positive shared reading experiences can help children love reading and become lifelong readers (The Straits Times, Sept 2017) 
Listening to others read develops key understanding and skills (Bredekamp et al., 2000)
It helps your child(ren) learn to use language in multiple ways and develop vivid vocabulary (The Straits Times, May 2016)
But not every child has that blessing of having someone read for him/her.
Mary's father is a single parent, busy at work so she is taken care of by her grandparents. Darren's parents paid very little attention to his learning and he spent all of his time after school playing.  Ling Ling's mother is Vietnamese and does not speak English while her father is deaf. So at K2, Mary did not know the letters of the alphabets and Darren had no concept of words nor any interest in books. At P1, Ling Ling could read fewer than 50 words.
It is for these children, that Calvary Community Care (C3) started their reading programmes. Eunice, the Programme Manager (Children Services) at C3 said "Being able to read does not guarantee success; but it will remove the guarantee of failure. That was why we started this "rescue mission" in 2010. GROW is a skills-based programme where we help children acquire reading skills.  We have been very successful in helping the children learn to read; however, we discovered we were wrong in our assumption that children don't read because they can't.  We discovered that the ability to read does not necessarily or naturally translate into a reading habit. We needed to do something more to stoke the flame and that was how Story L.A.B. was started in June 2015."
At Story L.A.B., volunteers read to children in small groups for 45 minutes each session.  The objective is to provide the children with a bed-time story experience so that the children, especially those who lack the home support, will reap tremendous benefits of being read to.
Calvary Community Care conducts weekly GROW lessons at various childcare centres and kindergartens, and Story L.A.B. at the Potong Pasir Community Centre. For children who have started primary school but are non-fluent readers, the ENCORE programme helps them develop reading fluency and comprehension.
Their programmes impact more than 200 children each year and the results are priceless. Mary was a competent reader by the end of P1 and she is now able to enjoy reading stories on her own. Darren and Ling Ling are now in P2. Darren is still a struggling reader, but he is now willing to sit through 30 min of the story session trying very hard to read a story with help from volunteers. Ling Ling is now reading competently at grade-level.
And now, Calvary Community Care is on a Literacy Fundraising Campaign to raise $50,000 for their beneficiaries while raising awareness of the importance of reading aloud to a child.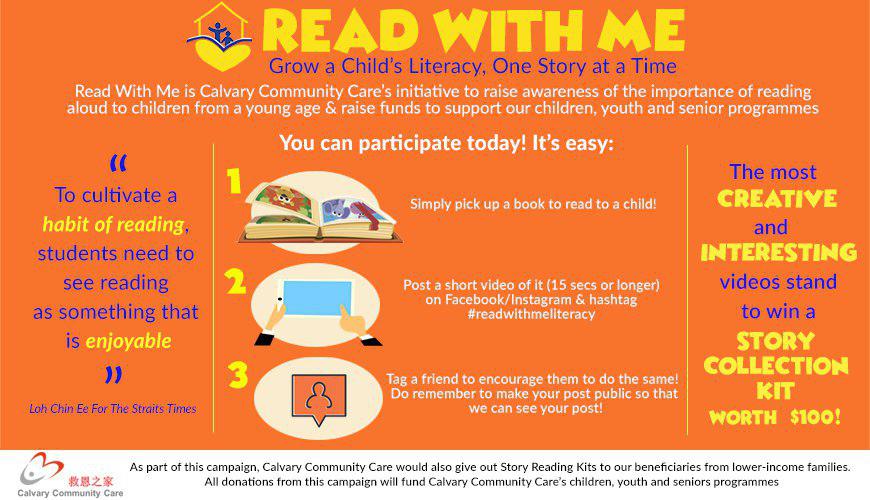 While writing this post, I felt reminiscent about reading to Elkan and Elias when they were young. I asked them whether they would like me to read for them. Both declined, in their own ways.
See, so they do become independent readers who would rather read on their own. I am happy to get my reading life back. But I am even more glad that I had my years of reading for my little boys.
If you have a child in your life who still enjoys hearing you read, and you have the ability to do so – would you do it – for his/her joy and yours? Would you also give to Calvary Community Care so they too can bring joy to a child that way?
Visit their Fundraising site now to give!