Habitat for Humanity

Founded by Millard Fuller and his wife Linda in 1976, Habitat for Humanity (HFH) International is a non-profit Christian housing organisation with a mission to eliminate poverty housing worldwide by building simple, decent houses with the help of the homeowner families themselves and volunteers.
Habitat for Humanity builds for people of all backgrounds, races and religions to provide needy families with a simple and decent place to live in.
To date, HFH has built more than 500,000 houses, providing for more than 2,000,000 people in more than 3,000 communities in North America, Latin America and the Caribbean, Africa, Europe, and throughout the Asia-Pacific region with safe and decent shelters.
Their Mission Vision: 
A world where everyone has a decent place to live.
Their Mission Statement:
Seeking to put God's love into action, Habitat for Humanity brings people together to build homes, communities and hope.
Locally, Habitat for Humanity does excellent work under Project Homeworks.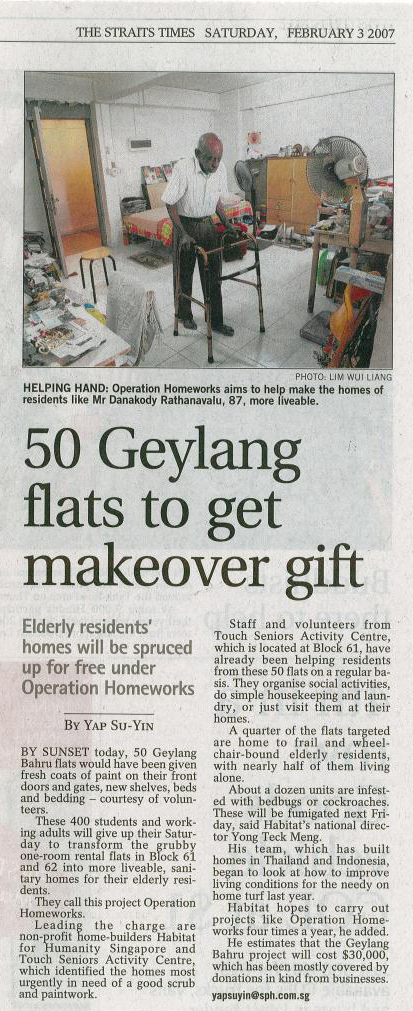 Project Homeworks seeks to improve the living condition of the elderly, the sick and the physically-challenged living at one-room flats all over the island.
I watched the video which was posted on its website, and I learnt that they once cleaned up the home of a mentally deranged woman who defecated all over her home! It is hard work, and not glamorous, but it is such an act of love!
Do visit their website, and see what you can do to be a part of it!