Our first family Sabbath – Cameron Highlands
(This is a continuation of our first family Sabbath – the first 3 nights were spent at Port Dickson and Ipoh. You can read about that here. We went to Cameron Highlands on the 4th day of our family sabbath. However, to make it easier to track this leg of our journey, I will treat the first morning at Cameron Highlands as Day 1).
We stayed at the Government chalet – Cluny Lodge for all six nights at Cameron Highlands. We arrived late in the night – Day 0.
Day 1 – Sunday
In the morning, we went to All Soul's Church. It was an Anglican Church. It was interesting because we chanced upon some Singaporeans – they were from Agape Baptist Church and were staying at the OMF chalet near Cluny Lodge. They invited us to pop by and we did later.
After that we went to Tanah Rata for lunch and to send in our laundry. We ate at a Chinese stall at a food centre and then went to a cafe for a drink and ice-cream because we needed to use a toilet…. Then we did some shopping at a RM2 shop (something we always enjoy) and visited S K Convent.
Then we left town and tried to locate Hilltop bunglow but could not find it.
We went to Smokehouse for tea. It was beautiful. We took so many photos.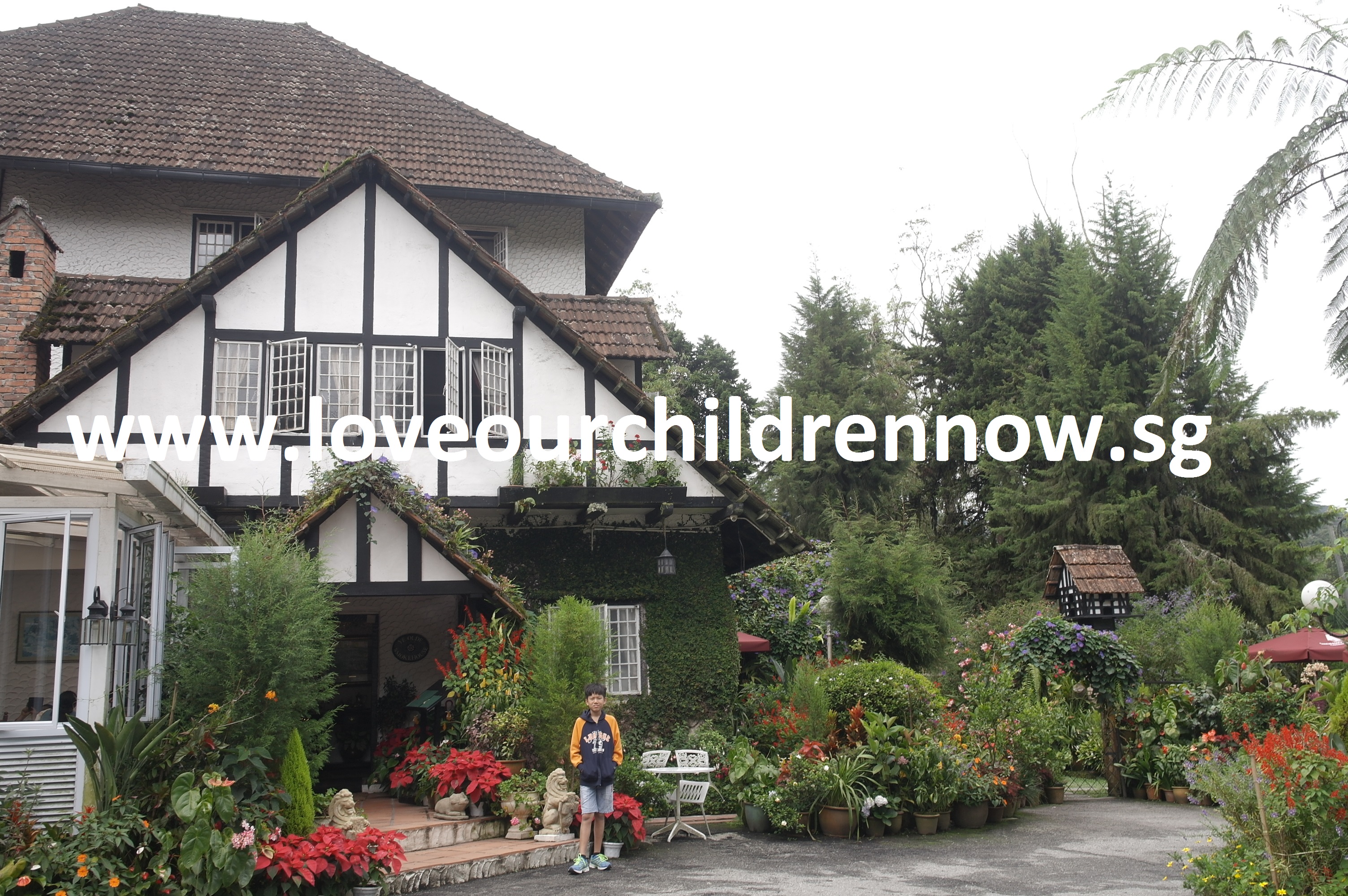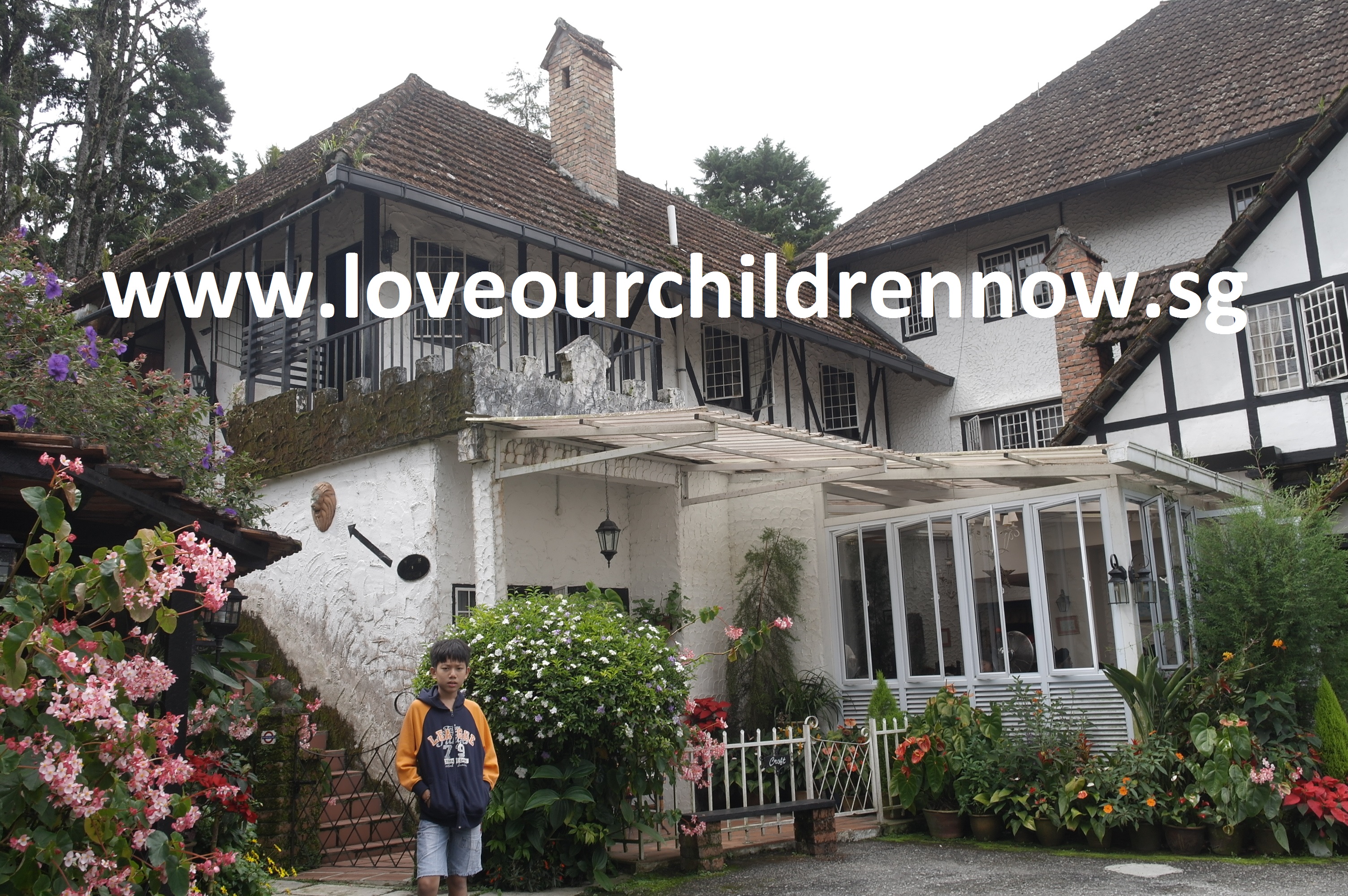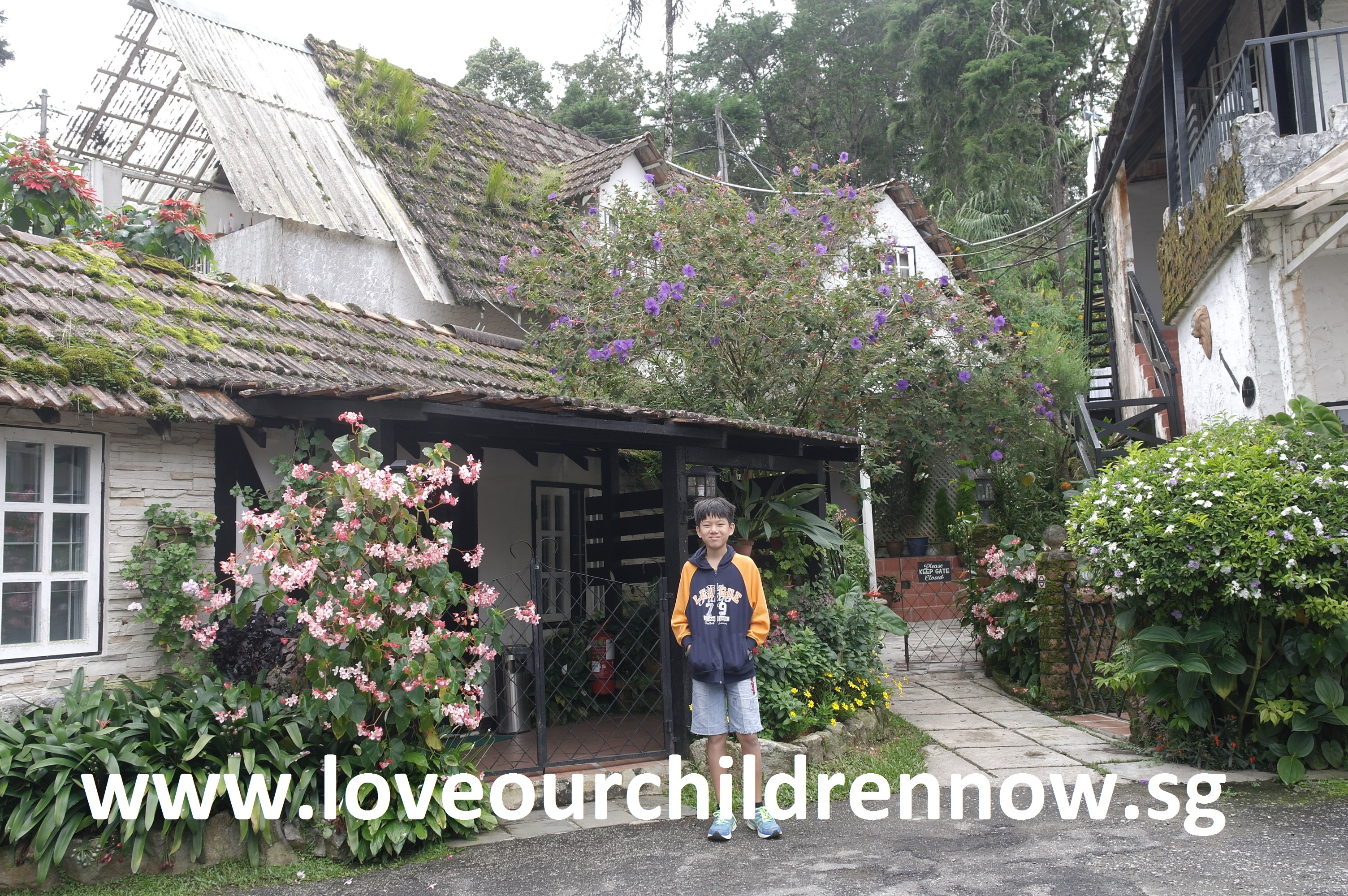 These are some closer-up photos of the outside and the gardens on the hotel ground.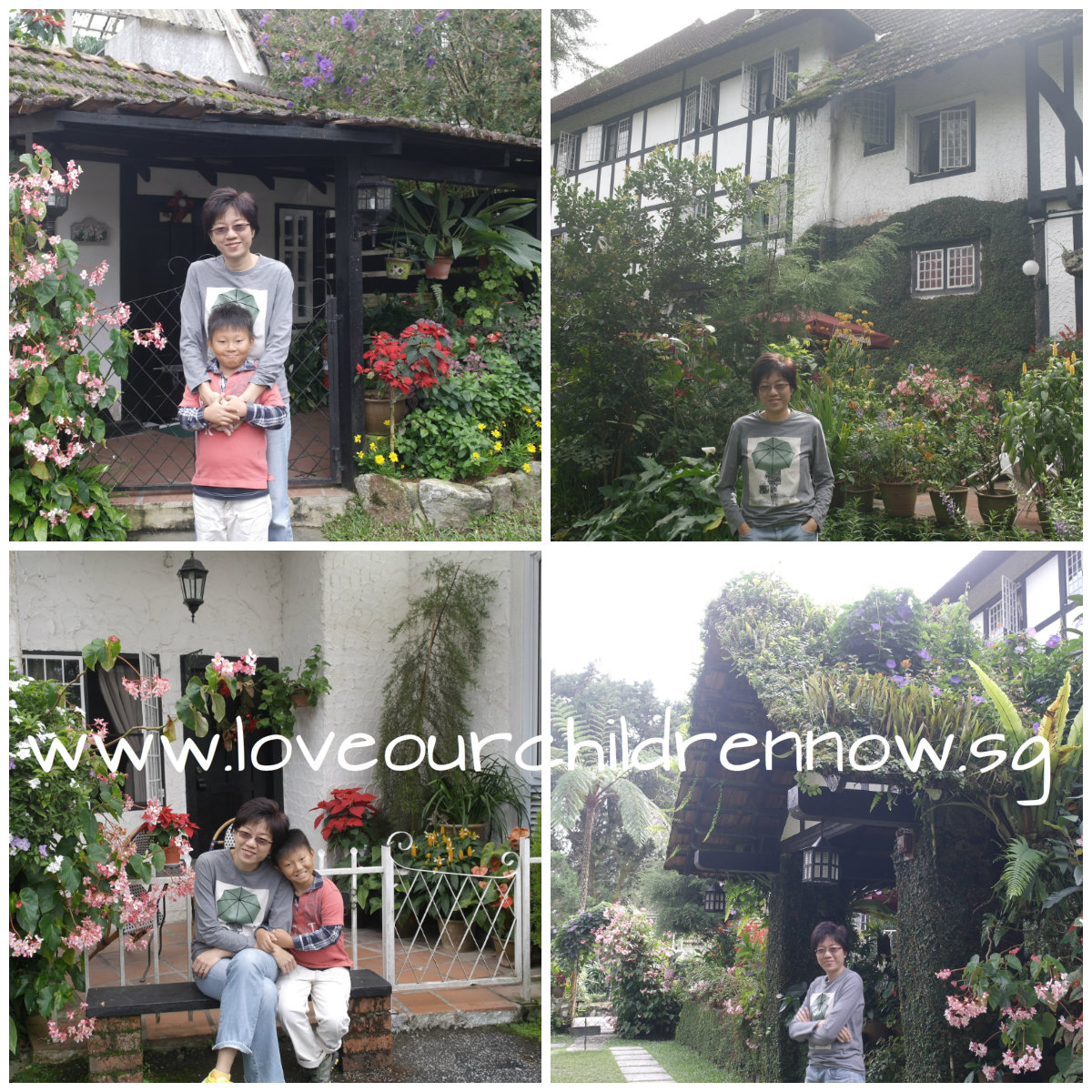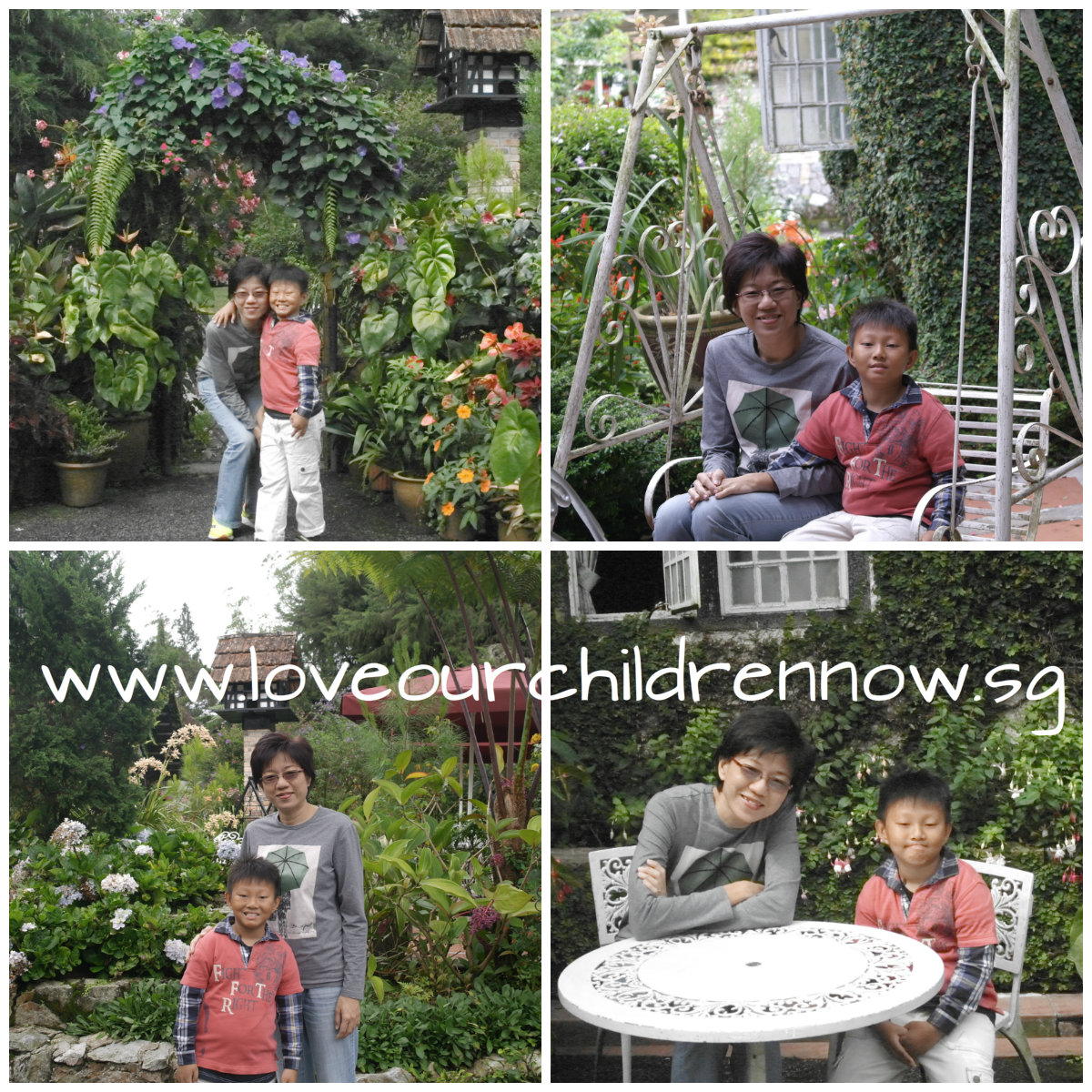 These are photos of the inside.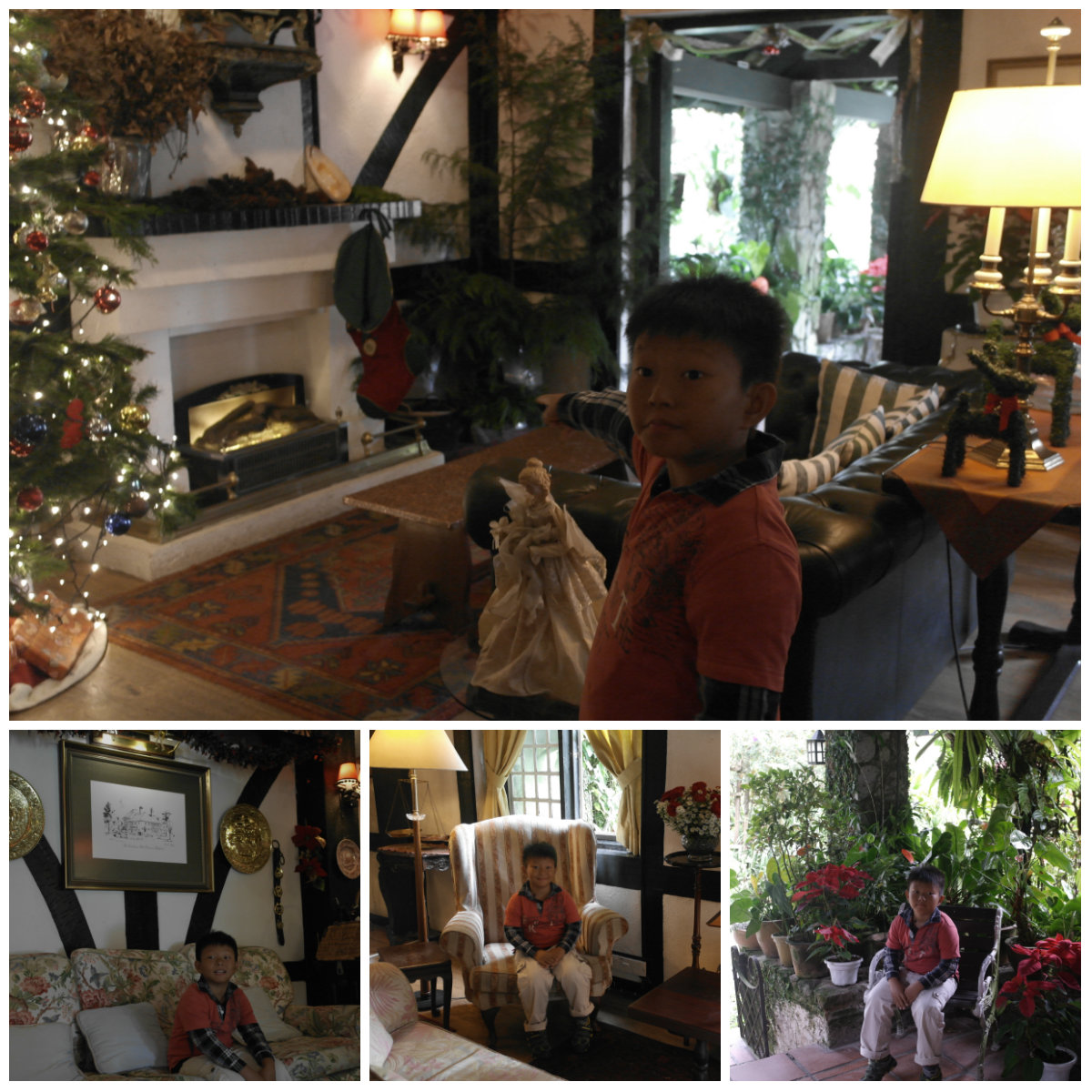 This is where we had our tea – scones and drinks. It was not cheap (RM107) and we didn't order a lot. But I would pay again, just to be able to visit this place.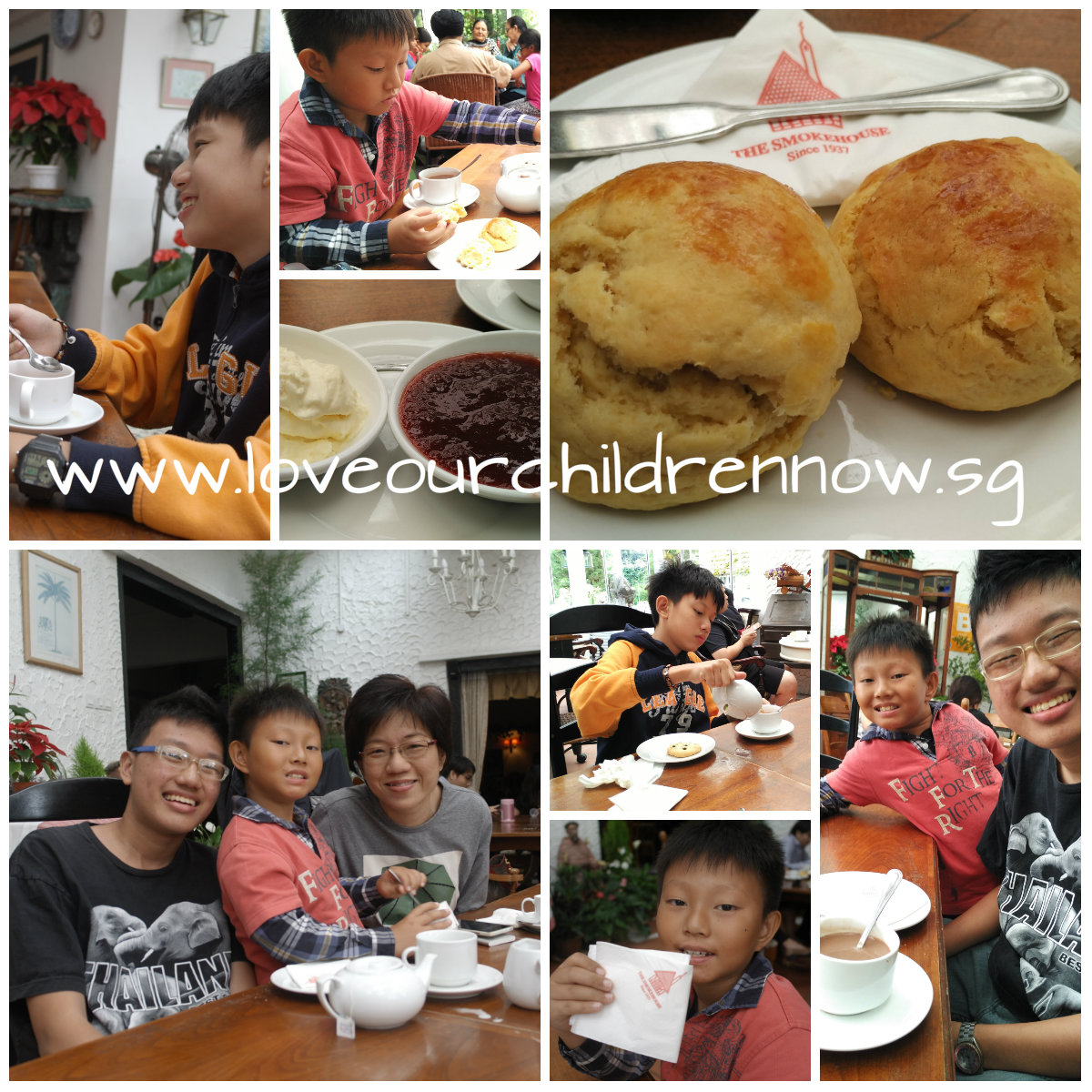 We went back to Tanah Rata to collect the laundry but it was not ready. We decided to return to the Lodge. While on the way back, we spotted the OMF Bunglow and drove in for a visit.
After that we went back to Cluny Lodge at 4:30pm. The kids did some work and we had dinner and rested for the day.
Day 2 – Monday
The next day we start the day with family time.
After that, Elkan read a book while Elias and Samuel played at the playground which was within the premise of Cluny Lodge.
After lunch, we went to pick up our laundry at Tanah Rata and sent in a new batch. Then we went to the Big Red Strawberry Farm. It was really good.
After that we tried to find Jim Thompson Cottage but sadly we could not get too near it. It was private property and we did not dare to trespass.
We went back to the Lodge at 6pm. After dinner, the boys played Uno with some new friends.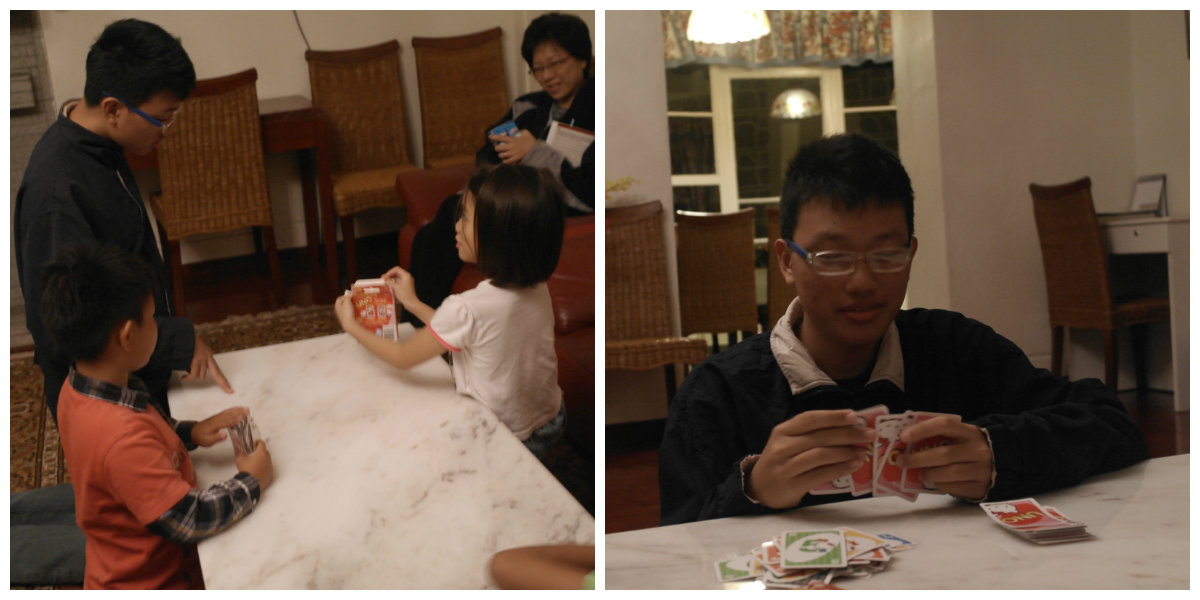 Day 3 – Tuesday
The next day we went to the Boh Tea plantation at Ringlet (the older one). Thanks to Google Map, we could tell that there was a HUGE jam at Tanah Rata. (It seemed that they were doing roadworks, so a two-lane two-directional road became a one-lane road!) So we made a detour through small roads.
There was a walk up to a view and we did it.
After that we had lunch at a coffee shop somewhere. We were hungry and just popped into the first one we saw. We had fried rice (Daddy had noodles). The fried rice was very good. I conclude that all Malaysians can cook…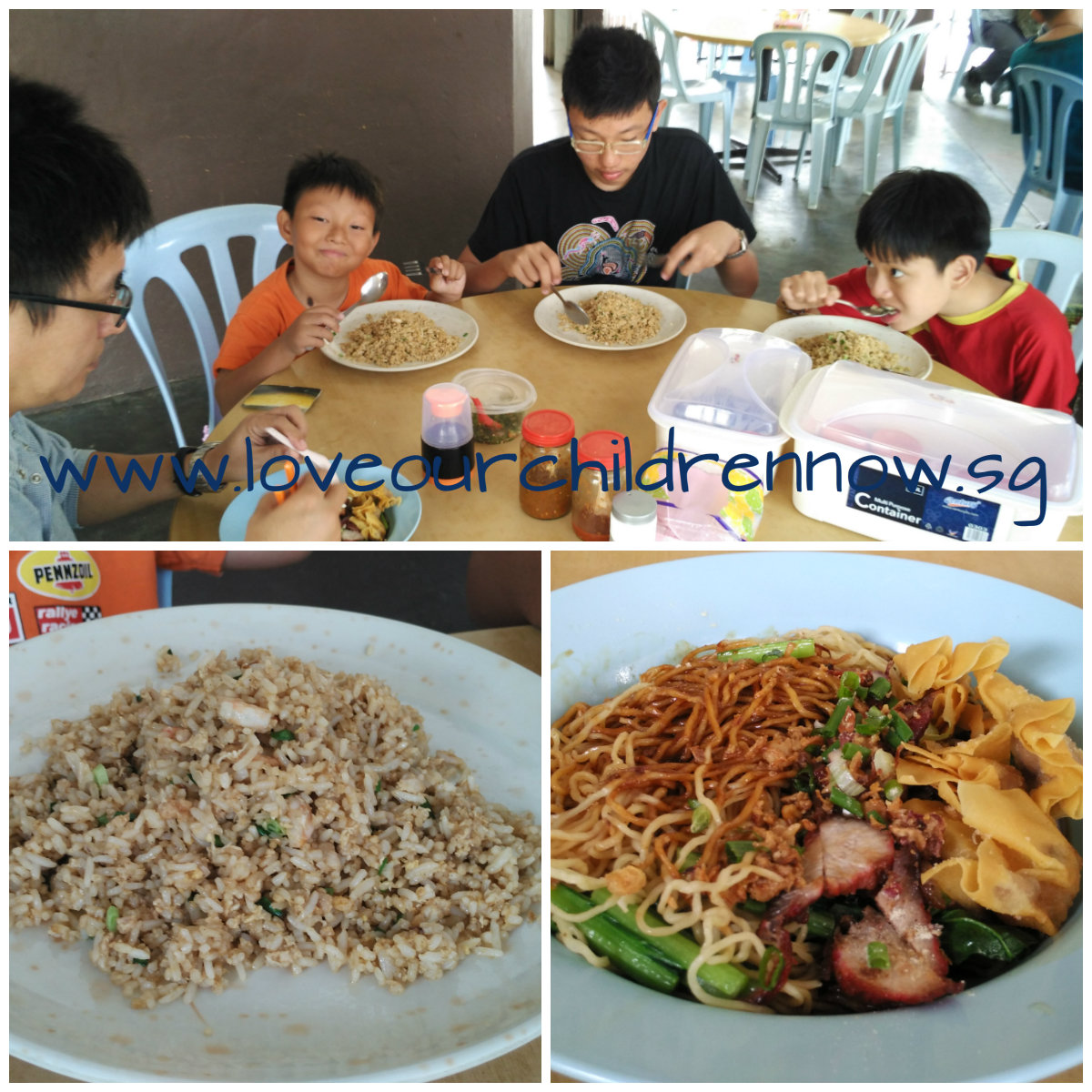 We tried to explore Robinson's Falls after that, but it had been turned into a Dam!
We went back to Tanah Rata after that and collected our laundry. Then we went to visit The Lord's Cafe.
We went back to the Lodge, had dinner and an early night. We were planning to go to Gunung Brinchang the next day.
Day 4 – Wednesday
We woke at 5:30am. Elias sat in front as he was the most adventurous of the lot. When we tried to drive out, we realised that the gate was closed – for a moment we panicked – what if the gate was locked?! But it wasn't. Elias was the one who opened it for us.
Then we drove off, in search of Gunnung Brinchang. It was an exciting drive in the dark. Elkan and Samuel were sleepy and I think they slept part of the journey. Elias was wide awake from the excitement. I was awake because I was a bit worried because we were doing it for the first time and were not sure whether we could make it there.
Indeed, we made a wrong turn, turned back but made a second wrong turn and went up the wrong part of the mountain (but we didn't know that then). We started driving through some dirt road. Some trucks drove past us. It became quite scary because it soon became a one-lane road up the mountain and we didn't know what we would do if there was another car coming down – there was no place for Edmund to do a 3-point turn. After some time, we decided that we DID make a wrong turn and came down. Not before taking some pictures.
We rested at a viewpoint and ate some biscuits.
We decided to try another road, and found the correct road that leads to the viewpoint at Gunnung Brinchang! The sunrise was over, but we still had fun climbing up the view tower.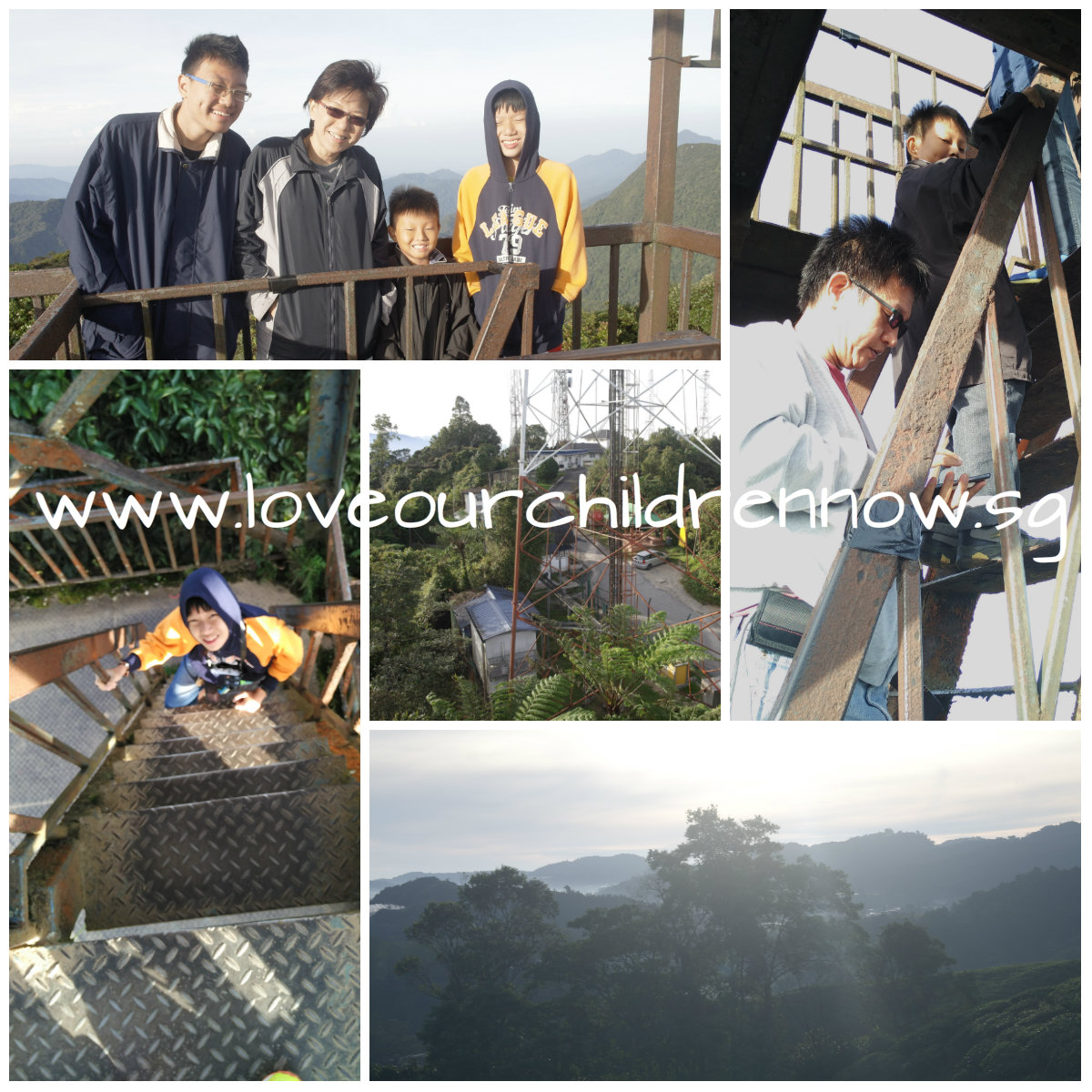 While driving down, we stumbled upon the entrance of the Mossy Forest (which we visited the last time we came to Cameron Highlands) and had an interesting drive through the area.
After that we went to the Boh Tea Plantation at Brinchang.
After that we wanted to have lunch at the Lavino Cafe which I read about and which looked fascinating. Sadly, it had closed down!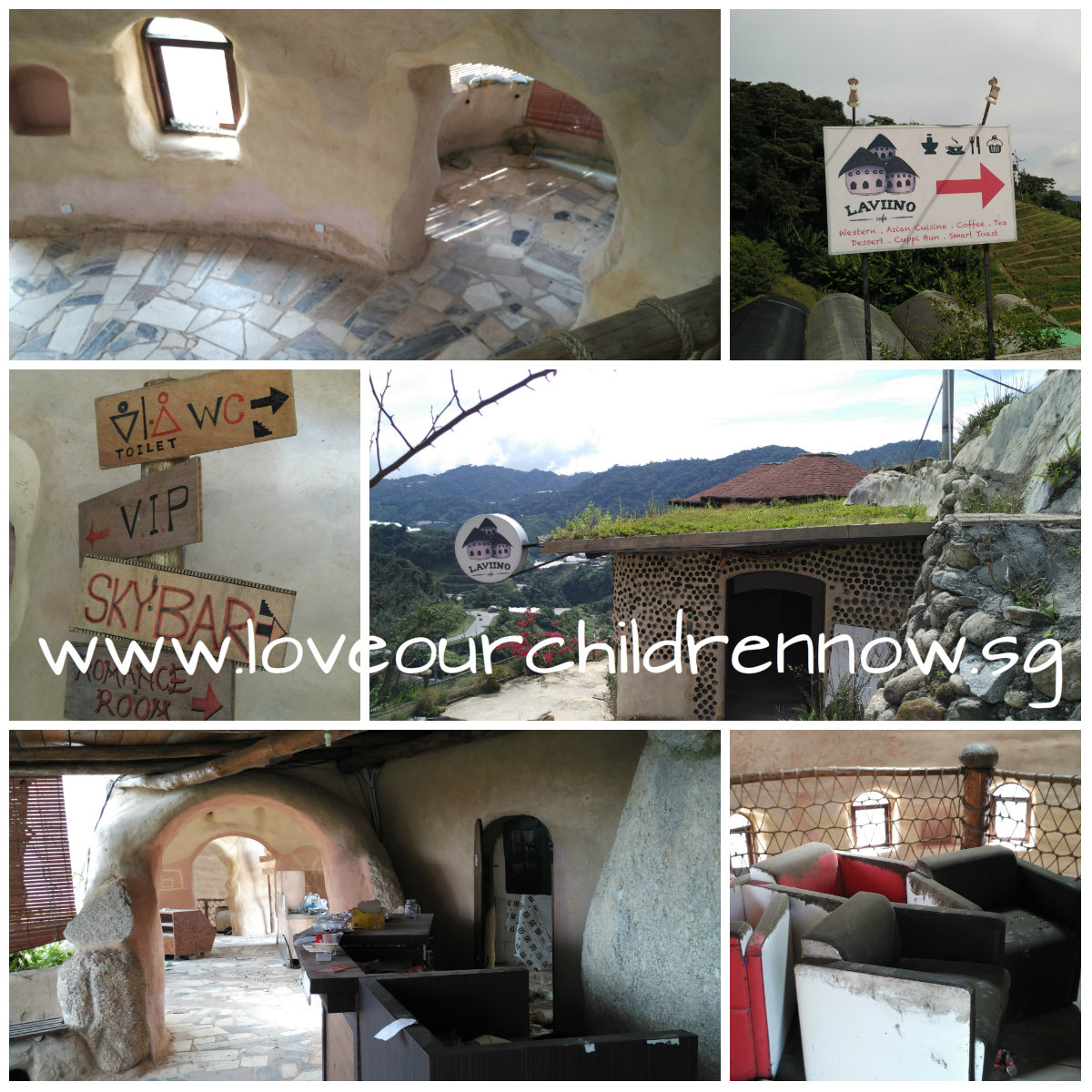 So we had lunch at a Strawberry Cafe (We just decided to randomly drive and entered into a side road which led us there).
While driving out from our lunch area, we saw a sign that says Paprit Falls so we decided to drive in. We had fun there for some time.
By 3pm, we were back at the Lodge. We watched Video CDs which we brought from Singapore. We watched it in a room just next to our Family Room. There was a TV Room (with a nice fire-place) and then further in, was our Family room. We started with Evolution's Achille's heel and then continued with "Noah's Ark – a documentary".  We stopped for dinner and returned to finish watching Noah's Ark.
Day 5 – Thursday
We didn't do much this day. We had four meals that day, including tea time, when we had scones.
One of the best things about staying at Cluny Lodge was that we could cater meals. We did not need to think about what to eat – just appear at the dinning table and food will be prepared for us. We just need to tell them whether we wanted Western or Chinese.
On that day, we spent more time playing games. We did our Christmas rehearsal (for a performance we decided to do on a spur of the moment) and family planning- what we did well in 2015, what we would like to do/change in 2016.
After dinner, Edmund taught the boys how to play carom.
Day 6 – Friday
We had an early breakfast and drove off at 8:30am.
We reached Ipoh Parade at 11am and had lunch at Sushi King. We drove off at 1pm and got lost in KL for about 2 hours. Finally we reached Ayer Keroh close to 5pm and stopped by at the Pagoh rest stop for an early KFC dinner at 5:50pm, We drove back to Singapore at 6:30pm. (And this was where my meticulous recording stopped, so I have no idea when we finally reached home).
I didn't know that we did so many things, until I wrote out this blog post. Despite that, it did not feel that we were in a rush. It was a leisurely holiday and we had a lot of time together exploring the different places, at meal times and in the car. I had time to be on my own, to reflect and pray.
We all loved it so much we are planning for another family Sabbath this year.