Families for Life Celebrations 2016
Do you like picnics? I love picnics. I think it is the best way to spend family time. I love packing picnic food and snacks and sitting out in a park or the beach…. letting the children run freely and watching the world go by. It is easy to do and casual.
We have done many types of picnic over the years as a family. We have gone for organised picnics,  celebrated national day with picnics, done night picnics and even a room picnic.
Finally last year, we did a picnic as part of our celebrations for Singapore's Golden Jubilee. That was also the first time we took part in a Families for Life picnic.
Families for Life (FFL) was launched on 7 February 2014, rebranded from the former National Family Council (which was formed on 1 May 2006). FFL's vision is to build strong and resilient Singaporean families that contribute towards the core of stronger communities and better individual well-being. Its three key strategic thrusts are – Enrich Family Life, Encourage Family Time and Community and Online Engagement.
FFL organises picnics throughout the year at heartland parks as bonding opportunities for families and to encourage Singaporeans to make the conscious decision to spend more time with their families. Since the FFL picnics started in Oct 2014, over 22,000 participants have benefitted. The series of picnics will continue in 2016, starting with a grand FFL Celebrations 2016 on 29 May 2016.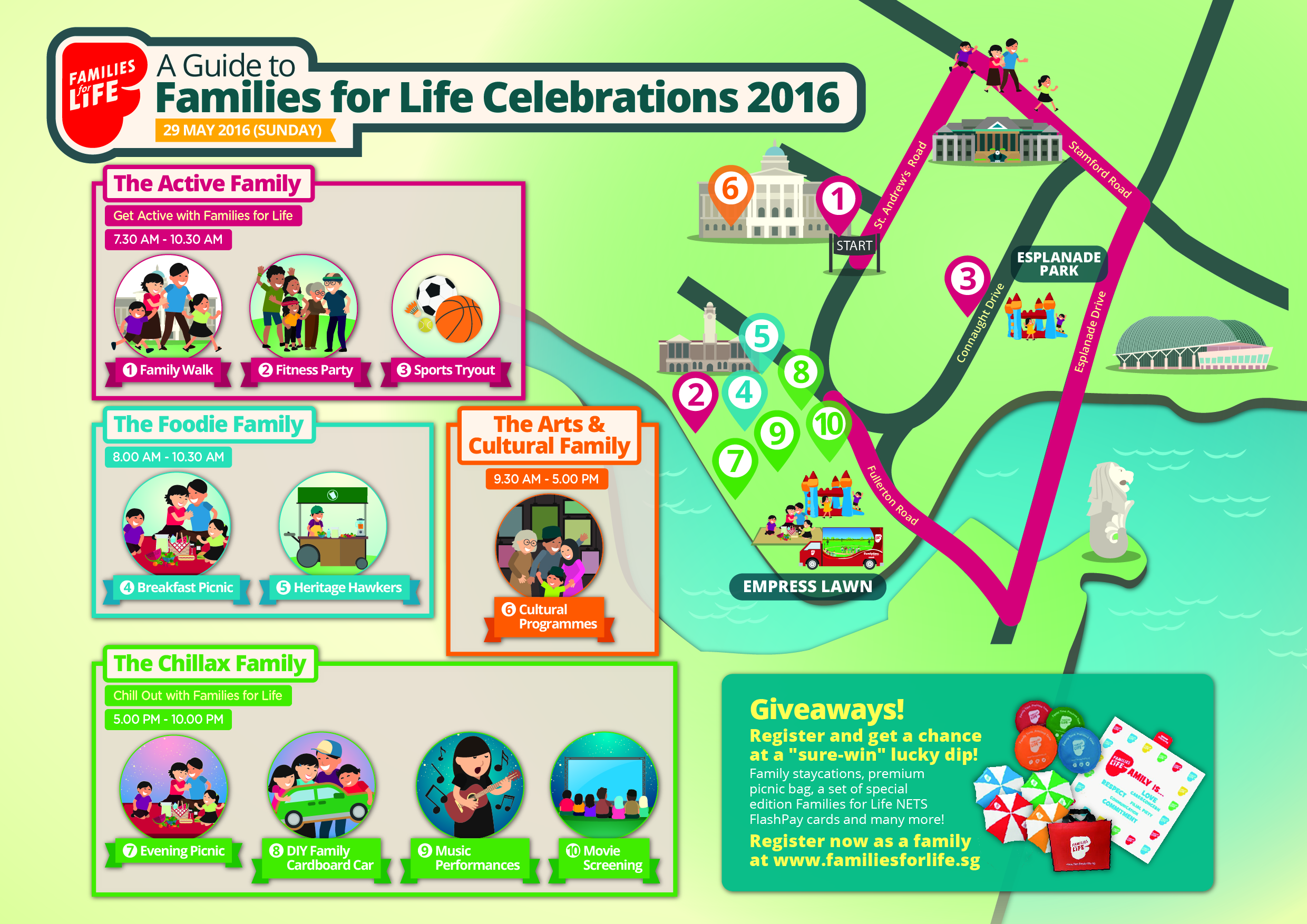 Have a picnic in the Civic District on a Car-free day! Participation is free, so you are free to just turn up with your own picnic mat and food, but if you register, you will be given a FFL goodie bag and attractive prizes! Register here!
Some other highlights:-
FFL Walk will be flagged off in front of the National Gallery from 7:30am. Umbrella hats will be given away before the walk from 7 – 7:30am (while stocks last!). The "Largest Family Contingent" and "Best Dressed Family" winners will stand to receive $500 worth of dining vouchers!
Fitness party starts at 7:30am, but registration is required. Register here! (Scroll down to the bottom of the page and select the timeslot you want. You need to register with a HPB account or your Singpass).
The Milo truck will be there! Apart from that, you may purchase local food like You Tiao, Nasi Lemark and Prata!
If the heat is too much for you, pop into the Victoria Concert Hall, National Gallery, Esplanade, The Fullerton Heritage Gallery or The Arts House for a series of activities on the same day.
For the night, the movie which will be screened will be "Night at the Museum : Secret of the Tomb".
Visit the Families for Life website or facebook page for more details about all the events it organises. You can also get tips on improving your family life and take part in contests to win attractive prizes!
#IChooseFamilyTime